'Silver White Love Affair' was written about Ken's Aunt and Uncle. Ken started writing the song after a trip he took to Connecticut when his Aunt Arline and Uncle John were visiting the area. Ken has always loved them dearly and all through his childhood years, his Aunt and Uncle served as another set of parents to him. Visiting with them later in life, Ken always learned more and more about his ancestors and especially his father. (Ken's Uncle John and father were brothers)
"There was a picture I took of them in Connecticut. It showed the love in each other's eyes and it was hard to believe they have been together so long".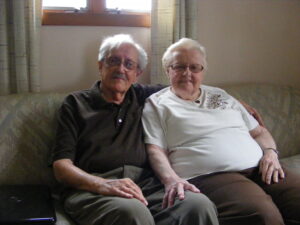 Ken wanted to write a waltz after being inspired by a friend, Ryan Scarberry. Ken tried and tried until he was able to get all his inspiration from this single picture. He also referenced moments throughout his life that pertained to his Aunt and Uncle.
Finally, after an inspiration that came to him on June 8th, 2014, Ken was able to make his final changes and recorded the song in the morning right after breakfast.
"I think there was a God inspiration for this song this morning".
Not too long after Ken emailed the song to his Uncle, he got up to get ready for his afternoon events. His Uncle called him on the phone, but it went to voice-mail. When Ken noticed there was a call, a quietness came over him with his Uncle's words. It left his Uncle at a loss of words. Ken saved the voice-mail…and it will be a part of this song's history.
"On my way out of the house, I was able to call them from the car. We chatted for a little bit and told them how much they have meant to me over the years. It was a real nice conversation".
On October 2, 2014, John and Arline celebrated their 60th Wedding Anniversary.  Ken's song was played for them several times by then, but never in person. "I wish I had played it for my Uncle during my Aunt's celebration of life. The look in Uncle John's eyes will never be forgotten…as it continues to haunt me to this day. This was the last time I ever saw him again, and I miss him dearly".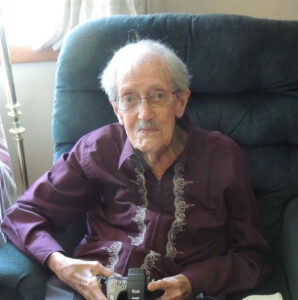 Arline passed in December of 2015 at the age of 86, and John followed after her on August 21, 2017 – the day of the Great American Eclipse. John was 91.